KETO CHEESECAKE – NEW YORK BAKED CHEESECAKE
INGREDIENTS
BASE
1/2 Cups Almond Flour
1/2 Cups Coconut Flour
1/4 Cups shredded coconut
1/2 Cups Butter
CHEESE CAKE FILLING
2 Cups Cream Cheese
3/4 Cups Sour Cream
1/4 Cups Natvia (Or Erythritol)
3 Whole Large Eggs
1 tsp Vanilla Essence
1 tsp Lemon Zest
INSTRUCTIONS
Add all the base ingredients into a bowl, melt the butter in the microwave for 30 seconds and mix together in a bowl.
In a cake tin, line the inside with baking paper and press the base mixture into the bottom of the tin. I usually press it just to the bottom because the sides become too thin
Place the tin in the fridge and continue to follow the steps. Turn the oven on and select 140 degrees C (280 F) if fan forced, otherwise 160 degrees (320 F).
In a mixing bowl, add the cream cheese and the sour cream together, along with the vanilla essence, sugar substitute (natvia) and the lemon zest. Add 1 Egg to the bowl and begin to mix together (I use electric beaters to get a good consistency). As the mixture begins to mix slightly, add another egg and continue to mix. Add the last egg and continue to mix.
Take the base out of the fridge and fill the tin with the cheese mixture. Put into the oven and bake in a water bath (Or large ramekin filled with water in the oven beside cake) for 45 – 50 mins.
Check the cheesecake by pushing a spike into the middle. If it comes out clean then the cake is ready. Leave the oven slight open and leave the cake in the oven for another 30 mins to cool slowly. Put in the fridge for another 60 mins and enjoy!
---
No-Bake Keto Cheesecake
INGREDIENTS
FOR THE KETO GRAHAM CRACKER CRUST
10 g almond flour
10 g very finely chopped pecans
1 1/2 teaspoon Swerve confectioners or xylitol*
1/4 teaspoon cinnamon
pinch kosher salt
1 1/2 teaspoons melted grass-fed butter
FOR THE KETO CHEESECAKE
40 g sour cream plus more for serving (optional)
70 g cream cheese at room temperature
28 g grass-fed butter at room temperature
1/2 teaspoon vanilla extract
1/8-1/4 teaspoon lemon juice to taste
2-3 tablespoons Swerve confectioners or xylitol, to taste (we use 2)
INSTRUCTIONS
FOR THE KETO GRAHAM CRACKER CRUST
Lightly toast almond flour and (very finely chopped!) pecans in a skillet or pan over medium heat, until fully golden and fragrant (2-4 minutes). This is very important taste-wise, so don't skip!
Transfer toasted nuts to a small bowl (or go straight for the serving glass), and mix in Swerve, cinnamon and salt. Add in butter, mix until thoroughly combined, and press into serving glass or dish. Refrigerate while you make the cheesecake.
FOR THE KETO CHEESECAKE
Add sour cream to a medium bowl and beat with an electric mixer until whipped (2-3 minutes). Set aside.
Add cream cheese and grass-fed butter to a medium bowl and beat with an electric mixer until fully creamed. Add vanilla extract, lemon juice (add a light squeeze to taste), Swerve and beat until just combined.
Fold in whipped sour cream. Pipe or spoon cheesecake mixture into the graham cracker lined glass. Freeze for 30-40 minutes or refrigerate for a couple hours (or overnight).
Optional: Serve with more whipped sour cream (or heavy cream) and a couple of strawberries.
SERVING SUGGESTIONS
heavy or sour cream whipped
strawberries thinly sliced or Blueberries
---
KETO CREAM CHEESE FROSTING – LOW CARB
This Keto Cream Cheese Frosting is perfect on low carb cakes, but also makes great fat bombs, crepe filling, or even truffles!
INGREDIENTS
8 ounces cream cheese, softened

1/2 cup (1 stick) butter, softened
2/3 cup powdered erythritol (I used Swerve)
1/2 teaspoon vanilla extract (no sugar added)
INSTRUCTIONS
In a medium bowl, cream the butter and cream cheese together with a mixer until fully combined.
Add the sweetener and vanilla extract and beat slowly until the sweetener is incorporated so it doesn't get blown into the air.
Once the sweetener is incorporated, beat on high for 2 minutes or until fluffy.
Use immediately, or store in an airtight container in the refrigerator for up to a week, or in the freezer for up to 3 months. Then bring to room temperature before using.
---
Keto Frosting | Vanilla and Chocolate Buttercream!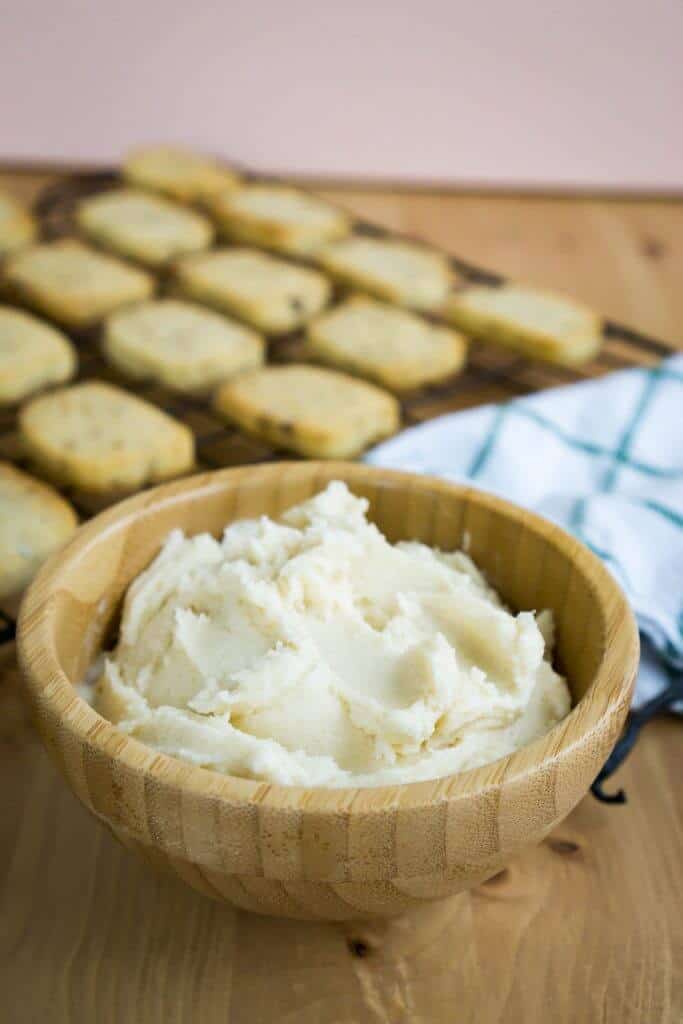 Ingredients
Vanilla Buttercream Frosting
1 cup butter, room temperature We use this!
1.5 cups swerve confectioner We Use This!
2 tbsp Heavy Whipping Cream
1 tsp Vanilla Extract We use this!
Chocolate Buttercream Forsting
1 cup butter, room temperature We use this!
1.5 cups swerve confectioner We Use This!
2 tbsp Heavy Whipping Cream
2 tbsp Unsweetened Cocoa Powder
Combine the butter, heavy whipping cream and vanilla in a bowl using a hand mixer.
In two batches, add in the confectioner sugar and combine with the hand mixture until you achieve and even and uniform mixture.
Store in the fridge in a sealed container up to one week.
For the chocolate: add in the cocoa powder at the very end and mix in using the hand mixer.
---
Kaaskoek / Cheesecake
---
Gaan na Gesonde Leefstyl Bladsy / Go to Healthy Lifestyle Page
#ketopta, #ketopretoria, #leefstylCketo, #lifestyleCketo, lifestyleC, lifestyle, leefstyl, leefstylC, #daniestrydomketo
| | |
| --- | --- |
| | Healthy Lifestyle / Gesonde Leefstyl |
---
Contact for Inquiry or coaching: