Visit these restaurants for an unforgettable time…
Gaan na Gesonde Leefstyl Bladsy / Go to Healthy Lifestyle Page
These restaurants will enhance your experience of life and it will help you to add other dimensions in your lifestyle.
There are various types of venues one can choose to visit, whether you feel like a crowd of people, enjoying a simple meal or a more intimate and rustic venue with less people or a dinner all on your own will be up to you.
It can be very therapeutic to spend time with family and friends. What better way than to spend this time at a nice bistro or cafe suitable for the occasion. There are vast numbers of dining places where one can enjoy exotic meals. The following restaurants are recommended in different areas in Pretoria, South Africa.
Restaurants – Dining-OUT – The comprehensive guide for restaurants in South Africa.
Dining-OUT is South Africa's comprehensive guide for restaurants all over the country (including Cape Town, Johannesburg, Pretoria, Durban, Plettenberg Bay, Port Elizabeth, etc.) and provides pictures, editorial, menu's with pricing, map, and an on-line booking feature.
---
Places in Pretoria & Johannesburg
Gabbata Lodge
The beautiful Wedding Venue, in the Bushveld, the four star Gabbata Lodge is situated on a 30 hectare expanse of untamed bushveld 
with various species of game and bird life. This fairy tale wedding venue provides the perfect setting for all your special occasions. It is an escape from the hustle and bustle of the big city to open spaces, fresh air and the beautiful surroundings of the Roodeplaatdam.
They offer an array of facilities and activities to suit every need and taste! That includes:  A Wedding Venue & Stone Chapel; Functions; Conferences; Accommodation; A la Carte Restaurant and Sunday Buffet; Wine Cellar; Fun-park; Kids Zone; Live performances; Boma, Spitbraai; Breakfast Runs and much, much more! More Info >>>
---
Dining at Kievits Kroon
---
Roodevallei Country Conference Center and Restaurant
The Faircity Roodevallei lies on the banks of the Pienaar's River in Pretoria, surrounded by a nature reserve and a bird sanctuary.
The hotel offers a relaxed bush setting within easy reach of Johannesburg and OR Tambo International Airport, complete with thatched roofs for a true African feel.
Conferencing
Events
Weddings
Restaurants and Bar
Read more >>>
---
The Green Olive >>>
Restaurant and Deli
Cafe foods
Speciality coffees
Functions
Small weddings
Childrens playpark (400sq partially covered with lapa for hire)
Garden picnics
Not your ordinary Nursery tea garden – Green Olive Café sets new standards for Country Cuisine, with two full-time chefs dishing up innovative surprises every day. Enjoy our extraordinary dishes in a tranquil garden setting, or indulge in a European street café athmosphere under beautiful trees. The "Upper level" is ideal for intimate functions or conferences.
Operating Hours:
Monday to Saturday: 8:00 – 16:00
Sundays and Public Holidays: 8:00 – 15:00
For dayly updates, special occasions and evening functions notifications,
Plot 229, Derdepoort, Pta
Sefako Makgatho Oos (Zambesi)
Langs Doxa Deo Noord
GPS Co-ordinates: S 25 40.883′ en E 028 18.483′
---
Blos Cafe
Plot 66, C/O Olympus Rd and Leander St
Faerie Glen, Pretoria, South Africa
-25.798636, 28.331632
BLOS Café has settled in their new location hard and FAST – with pride of place in farmhouse-cross-modern style surrounds. The interior is a mix of authentic Farmhouse (Merited by the Institute of SA Architects) and modern panel glass & timber interiors, retro-fitted with vintage decor accents.
Running the back, length of the building, fronting a beautiful green belt is the open-air deck – a favourite for sundowners turned late-nighters… and then you can come back bright and early for your coffee and croissant. Monday to Saturday 7:00 – Late /and/ Sunday 7:00 – 15:00.
BLOS Café isn't just about food and drinks – its a creative space and has several options for venue hire, from intimate private rooms to a larger banquet style area and to top it off, a downstairs cellar with exposed wood beams, extending out to a small private deck with outdoor fire place. While the spaces are beautiful on their own, you can bring in your own decor items to personalise your party. Order from the BLOS range of luscious platters, whole cakes and all round good food, creative drinks and craft beers.
More About >>>
---
Monte De Dios

Nestled against the picturesque mountain is our exquisite Spanish Equestrian Villa. With the finest facilities, outstanding catering and professionally trained staff Monte De Dios has to be your first choice when deciding on a venue. Whether you're planning a conference, wedding or any other special function, treat your guests to an experience fit for royalty.
More About >>>
---
Moyo Restaurant Fountains >>>
Moyo Fountains is set in one of the oldest and most popular nature reserves in the country's capital city of Pretoria. The reserve has two natural springs, which provide part of Pretoria's daily water supply. Moyo Fountains, is and is a long overdue addition to this area filled with historical sites and ideally located on the route from the OR Tambo International Airport to Sun City and various Game Reserves. In addition to the 400 seater restaurant, the private lawns surrounding this venue will accommodate events of up to 2500 guests.
The moyo signature African entertainment will always be available daily.
For more information, contact:
Moyo Fountains
Groenkloof Nature Reserve, Fountains Valley, Groenkloof, Pretoria-Tshwane
Tel: +27 12 341 5729
eMail: Jeanne-marie@moyo.co.za
Open Monday to Sunday
Trading Hours:
Mondays to Wednesdays – 11h00 to 22h00
Thursdays to Fridays – 11h00 to 23h00
Saturdays – 9h00 to 23h00
Sundays – 09h00 to 22h00
Available for private parties, special events and corporate functions.
_________________________________________________________________________
Old Town Italy
Old Town Italy's mission is to restore these qualities and rekindle those experiences. After all, our body is our sanctuary, temple and the only one we have. Old Town Italy is an authentic Italian market where you can shop, talk, eat and learn.
Phone Number 012 348 2802
Location Shop 53, Menlyn Maine Shopping Centre, 210 Amarand Avenue, Menlyn, Pretoria
emailmenlyn@oldtown.co.za
Website http://oldtown.co.za/
Opening Hours
Monday to Thursday 7am to 9pm; Friday to Saturday 7am – 9.30pm; Sunday 7am – 8pm
---
Pure – Colbyn
YOUR NEIGHBOURHOOD STREET CAFE

Stripped of all pretence, beautifully bare and balanced, 'pure' speaks of honesty, no compromise and a love for quality. From passion to plate, the owners of Pure Café pour heart and soul into every bite, making this a culinary experience not to be missed.
125 Thomson Street West, Colbyn, Pretoria, South Africa
​colbyn@purecafe.co.za
​012-342-1443
---
+27 12 342-8914
La Spiga Bakery & Deli (Lynnwood)
+27 12 348-4476
+27 12 348-4476
La Madeleine French Cuisine (Lynnwood Ridge) Go there!
+27 12 361-3667
Smoke Cafe & Grill Lounge (Groenkloof Plaza)
+27 12 346-0916
Guia, Chinese Restaurant (Faerie Glen), Selikats Causeway
+27 12 991-2712
Heat, Woodlands Boulevard
Visit Heat
Tel: +27 12 997 6562
Fax: +27 12 997 6867
Ogalito,
O'Galito is an upmarket restaurant specialising in preparing exceptionally fine Portuguese dishes, complimented with world class service.
With restaurants in Woodlands Mall, Centurion Mall, Montana and Benmore Gardens we are simply a call away.
Visit Ogalito >>
Shop No 28, Woodlands Boulevard, c/o Garsfontein & De Villebois Mareuil Road, Pretorius Park
Centurion +27 12 663 2016
Brooklyn +27 12 460 7725
Benmore Gardens +27 11 783 4930
Montana +27 12 548 6064
Woodlands +27 12 997 4164
Carnivore >>
Africa's Greatest eating experience.
Tel: +27 11 950 6000 OR +27 861 732237
---
---

Warm, delightful, with an eclectic décor, La Pentola specialises in International Cuisine with South African flavours. Established in 1995, La Pentola's culinary roots are drawn from French, Italian and rich Mediterranean flavours, fused with the best local produce available. No compromise is taken when using olive oil, real butter, fresh herbs and cream. All dishes are freshly prepared and absolutely no MSG or artificial flavouring is used in any of our cooking.
The menu, created by internationally renowned Chef Patron & Author, Shane Sauvage, offers everything from starters, soups, salads, poultry, seafood and meat dishes, also incorporating an inspiring, superior range of vegetarian fare. Specialities alternate regularly to reflect a steady flow of original ideas and combinations. Game being a permanent fixture for the adventurous diner – Crocodile in a Mexican-style, tequila, chilli and tomato pastry to name only one. More >>>
| | |
| --- | --- |
| | 5 Riviera Galleries, Well Street, Riviera, Pretoria. |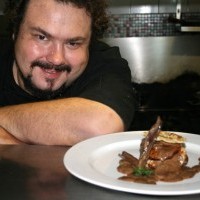 Executive Chef/patron/author Shane Sauvage
---
---
Gaan na Gesonde Leefstyl Bladsy / Go to Healthy Lifestyle Page
Col'Cacchio's Lynnwood LCHF meal – Pizza, Salad and Cheesecake! Excel
lent meal!
Morituri
Smaller 21cm base made of cauliflower, coconut, flax seeds, psyllium husks and Himalayan rock salt. Served with a side salad of lettuce, carrots, cucumber, egg, parmesan and radish.
Cheesecake

on an almond macadamia cacao base
#lchf, #bantingpretoria, #keto, #pretoria, #colcacchio, #strydomjaco
---
Kleinkaap Boutique Hotel
Lifestyle and Healthy Lifestyle Coaching
https://lifestylec.com/leefstyl-en-gesonde-leefstylafrigting/
#leefstylc, #lifestylec, #frikadelle#meatballs, #hoender, #chicken#coachinghub, #lifestyle, #leefstyl, #tennis, #afrigting, #coaching, #keto, #cappuccino, #slaai, #droëwors, #olives, #olywe, #kleinkaap
Ketogeniese Leefstyl – Ketogenic Lifestyle
#ketopta, #ketopretoria, #leefstylCketo, #lifestyleCketo, lifestyleC, lifestyle, lifestyle C, keto, keto pretoria, leefstyl, leefstyl c, pretoria, leefstylC, keto pretoria, gesonde leefstyl, healthylifestyle, #leefstyl, #lifestyle, #daniestrydomketo, #ketolifestyle, #prep, #weekprep, #ketogeniclifestyle, #ketogenieseleefstyl, #fotovandieweek
Kleinkaap Boutique Hotel
With over 100 years of history within its walls, this deluxe 34 roomed hotel is situated in the lush leafy suburb of Clubview. Kleinkaap Boutique Hotel is within easy walking distance of the up-market Centurion Mall and is just 10 minutes away from the City Centre.
The award-winning Kleinkaap Boutique Hotel in Centurion is the ideal venue for weddings, romantic getaways, the business traveler or business conferences. Inspired by the fairest Cape, Kleinkaap Boutique Hotel in Centurion aims to offer guests all the comforts of home with splendid luxury, thoughtful touches and the latest state-of-the-art facilities.
---
Café Rossini (Brooklyn)
+27 12 460 5912
Adega's, Pretoria, Brooklyn,  Centurion, Montana, Raslouw and Silver Lakes.
Visit Adega's >>
Déjà-Vu >>
Some of the Attractions at Déjà-Vu in Riviera, Pretoria: Guesthouse, Chapel, Weddings, Function Hall, Tea Garden
Donatello's (Centurion) >>
123 Amkor Road, Lyttelton Manor, Centurion
Telephone: +27 12 664 7858
Fax: +27 12 664 5973
E-mail: info@donatellos.co.za

Donatello's situated next to the popular Centurion Theatre in Centurion, and it's easy to walk past the small entrance.
Brasserie de Paris >>


At Brasserie de Paris great care is given to the preparation of each dish.
Tel: +27 12 460 3583
381 Aries Street
Waterkloof Ridge
Pretoria
0181
Villa San Giovanni >>
Villa San Giovanni is renowned for its excellent Italian cuisine and that is their area of special expertise – a blend of spectacular Italian and Mediterranean flavours and style.
Wonderboom Airport, Pretoria
GPS Position: S25 39.419 E28 12.813
Gaan na Gesonde Leefstyl Bladsy / Go to Healthy Lifestyle Page
---
#ketopta, #ketopretoria, #leefstylCketo, #lifestyleCketo, lifestyleC, lifestyle, lifestyle C, keto, keto pretoria, leefstyl, leefstyl c, pretoria, leefstylC, keto pretoria, gesonde leefstyl, healthylifestyle, #leefstyl, #lifestyle, #daniestrydomketo,
#ketopta, #ketopretoria, #ketogeniclifestyle, #ketogenieseleefstyl, 
#ketogeniclifestyle, #ketogenieseleefstyl,
#leefstylCketo, #lifestyleCketo, #mooikloof, #coachinghub, #hub, #leefstyl, #lifestyle, #daniestrydomketo, #wilsonpta; #wilsonpretoria; #wilsongholfpta; #ketopta, #ketopretoria, #leefstylCketo, #lifestyleCketo, #mooikloof, #zambesitennisklub, #montanapark, #besembiesie, #gondolier, #coachinghub, #hub, #leefstyl, #lifestyle, #daniestrydomketo, #sweetandsaltyzambezi; #daniestrydom; #leefstyltennisakademie, #lifestyletennisacademy, #thevenue, #danie, #wineandfood, #wynenkos; #pretoriaOos, #pretoriaEast, #tennis, #toerusting; #equipment; #golf, #gholf
https://www.facebook.com/LeefstylC/
https://www.instagram.com/leefstylc/
https://www.linkedin.com/in/danie-strydom-1b396390/detail/recent-activity/shares/
---
Contact for Inquiry:
---
Additional information: Lifestyle C is based in Pretoria (Gauteng), South Africa – We can accommodate any client(s) for requested lifestyle sessions at a venue that is convenient for both parties. You can contact Danie Strydom for professional life coaching and alignment.